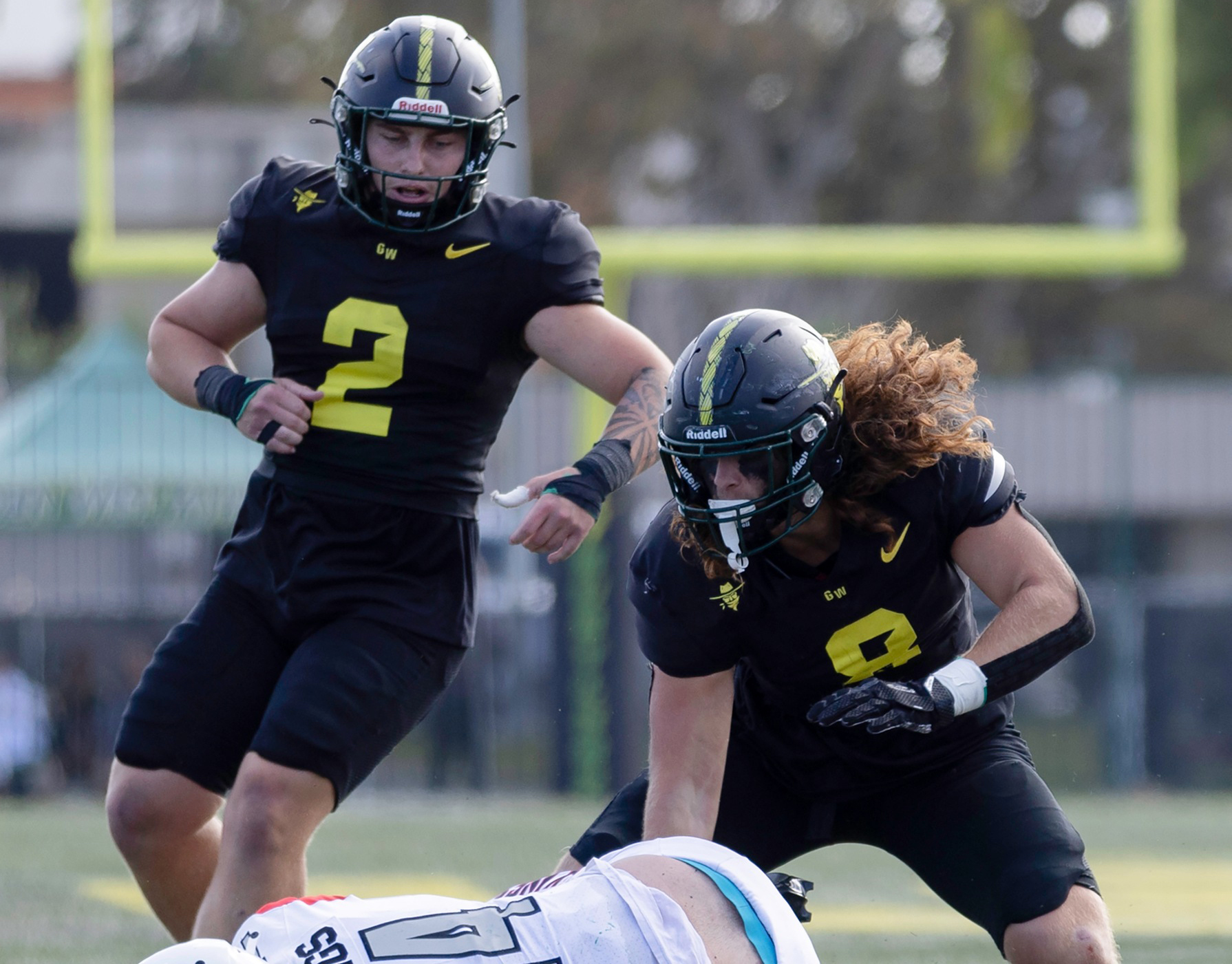 The 2023 National Central League championship as well as an automatic bid into the Southern California Regional Playoffs are on the line as No. 7 state-ranked Golden West College hosts No. 3 Mt. San Antonio College in the regular-season finale on Saturday (Nov. 11) at the GWC Football Field in Huntington Beach. Kickoff for the monumental game is set for 12 p.m.

TICKETS | Tickets are available online in advance at the GWC Tickets Page.

Ticket prices are as follows:
General Admission - $12
Seniors 60+ - $8
Children 6-12 - $8
All other students - $8

LIVE STREAM | The game will be broadcast live by SoCalCollegeSports on YouTube. Live play-by-play stats will also be available online at the GWC Athletics website.

STATE RANKINGS | Mt. SAC and Golden West continue to hold the No. 3 and No. 7 spots in both the JCAB and CCCSIA state polls. Among Southern California programs, Riverside (9-0) holds the top spot followed by Mt. SAC (9-0), Riverside (9-0), Fullerton (9-0), and Golden West (8-1). The top-9 in both polls is unchanged from last week.

ABOUT GOLDEN WEST | The Rustlers enter the regular-season finale having won seven straight games. They haven't lost since a 40-15 setback at Riverside in Week 2. Golden West is currently tied for first place at 6-0 in the Central League with today's opponent, Mt. SAC.

GWC is coming off a 21-14 triumph at Cerritos College. The victory marked Golden West career win No. 100 for head coach Nick Mitchell. It will be memorable for Mitchell as the Rustlers scored the game-winning touchdown, a 23-yard reception from quarterback Parker Awad to Tyler Hampton, with just 1 second left in regulation.

The Rustlers' defense held Cerritos scoreless for the first three quarters of the contest while the offense was steady putting up 7 points over the final three quarters. Marquis Brown had a solid game on D with 6 tackles, an interception, and a blocked field goal. Awad completed 11 of 23 passes for 159 yards and 2 TDs to pace the GWC offense.

ABOUT MT. SAC | The Mounties are unbeaten over its first nine contests this season. They currently have the state's highest-scoring offense, averaging 47.8 points per game while its defense is giving up just 15.3 PPG.

Mt. SAC is coming off a 70-14 rout at Long Beach City College. It was the Mounties' second straight game scoring 70+ points. Running back Nicholas Floyd rushed for 176 yards and 2 TDs on 12 carries.

LAST MEETING | Golden West and Mt. SAC are meeting for the first time since 2015. The two squads wrapped up the season in the Patriotic Bowl held at LeBard Stadium with the Mounties coming out on top by a narrow 29-27 margin.

A first-quarter safety scored by Mt. SAC on the Rustlers' opening drive would prove to be the difference. Three turnovers by GWC also proved costly.

Wide receiver Quest Truxton was named the Golden West Player of the Game after hauling in 14 receptions for 158 yards and 2 touchdowns.