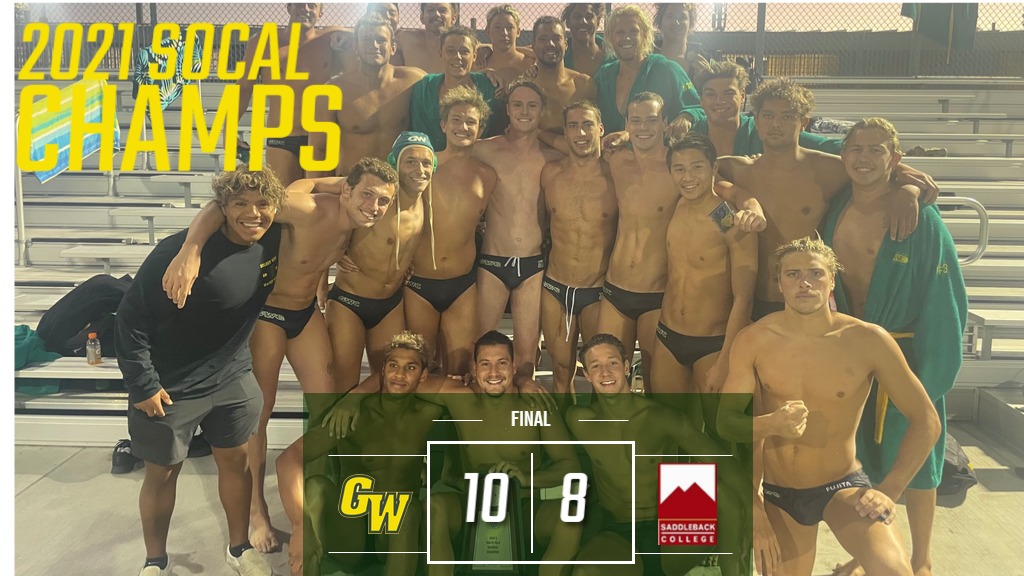 Chula Vista, Calif. - The Golden West men's water polo team captures the 2021 SoCal Region Championship with a 10-8 win over Orange Empire Conference foe Saddleback College, 10-8.
The Rustlers never trailed in this match but Saddleback slowed the high scoring Rustlers down in the championship to keep it close. Itamar Kolodny led the Rustlers offensive attack scoring two goals in the first quarter as Golden West held a 4-2 heading into the second quarter. Kolodny then scored his third goal of the match late in the second quarter to give the Rustlers a 6-3 halftime lead.
Barnabas Vidovics netted two goals in the match and a big one late in the third quarter to give Golden West an 8-5 lead heading into the fourth quarter. The Rustlers closed out the win with a Breno Tenet goal with 2:34 remaining on the clock to capture their seventh consecutive SoCal regional championship.
Goalie Garrett Henderson surrendered eight goals while saving 12 shots as the defense worked hard all game to keep the ball with the offense.
With the win the Rustlers head to the CCCAA State Championship on Friday, November 19th to take on Diablo Valley in the opening round at 10:30am in quest of their fifth consecutive state championship.